May 9th 2019
Greeting to all our friends,
Friday April 26 was a cold spring morning as Carol and I stood on the ancient site in Ramsgate in England, depicting the place where St Augustine along with 40 pilgrims had landed in 597- a moment that would change the face of Christianity in the UK and much of the world for centuries to come. 
We were about to commence a 'scouting trip' of the Pilgrims Way, in preparation for our Walking the Way mission, where some of our faithful intercessors had already gone ahead of us.
As I write this, we are now back in Florida having been stirred in our spirits and even more fully persuaded than before (not that we needed more persuading).
 Just a few snippets of discovery:
We discovered, as stated above that there were only 40 Pilgrims who accompanied Augustine, not hundreds.

There were more than 10,000 who publicly acknowledged Christ the year after their landing in England. That's revival by any standard!

Our commissioning scripture from Jer. 18:15 'My people have forgotten Me, they burn incense to worthless gods and they have stumbled from their ways, from the ancient paths, to walk in bypaths, not on a highway', was confirmed as we came across many places, restaurants and pubs that were advertising 'psychic nights' and events.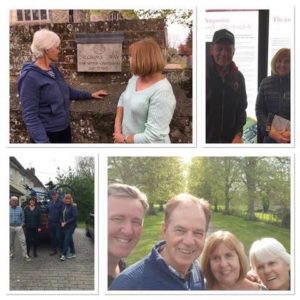 (Left image: from top left clockwise: 1. Carol and Estelle McCabe ponder a marker along the way; 2. Dave + Carol at the beginning of the route in Ramsgate Kent; 3. Neil Pattison, Dave, Carol and Estelle at beautiful Avington near Winchester.  4. Johnny McCabe & Jenny Needham with us, ready to set out on day one.)
These few things stirred our hearts, even more, to make a prophetic call with our Cross and Bowl, calling the nation back to the 'Highway of the Lord'.
We finished last Saturday afternoon (after completing the London leg) by meeting with an enthusiastic group of interested parties in Maidstone in Kent, who will form part of our back up team for the mission.
We plan to commence on 23 August culminating on 28 September with the 'Turning' in Westminster.
Several of you have very graciously enquired as to where you could contribute financially, which we so appreciate. As you can imagine an undertaking such as this, is financially costly. If you'd like to contribute in some way, please click on the PayPal link below and it will direct you. 
Thank you once again for your love and support.